After an extensive development and testing program, we made this rear subframe available to everyone. The car was 3D laser scanned, the subframe was CAD developed, we have tested the CAD model FEA (Finite element method) and performed road-going tests so you can now buy a new lightweight tubular adjustable subframe. Using the same T45 tubing as in WRC cars, our subframes provide increased stiffness, mass reduction and delivers more precise handling.
Benefits:
6,5 kg is lighter than the OEM rear subframe. This is 33% less weight on the rear axle of the vehicle!

The rear final drive moved 10 mm up (around ⅜") to reduce loads on the C.V. joints. We're changing its position because if you lower the car down, the shafts are often in the wrong position. This is made to avoid early wear of C.V joints.

Removed rubber mounts of a rear subframe to the body and made only one mounting position. We've changed our subframe to be bolted directly to the chassis through smaller mounting holes. This is made to avoid shifting the rear subframe under high overloads.

Additional bump steer adjustment on the subframe. You can now change the amount of bump steer moving up and down the pickup point of a rear toe link.

Replaced rear final drive rubber mountings with race car black polyurethane. Under torque, the trans moves around on factory mounts. Our polyurethane 85ShA mounts reduce this movement substantially helping with the drivetrain torque transfer to the shafts and wheels by removing the slop in the drivetrain.
Features:
Much more space to access the underbody of the car.

Increased chassis rigidity, thanks to tubular frame construction for improved handling performance. Made from T45 (BS4T45 to BS4T100) tubing imported directly from the steel mill and S355 metal sheets.

We've kept the OEM mounting points of the wishbones, sway bar, brake line wires, exhaust system, and headlight range sensor – Plug & Play!

Designed, fabricated, validated, and tested proudly in Poland. Every piece fabricated is validated by our trained staff. Weldings are crack detected and the whole product is checked before shipping.

Gorgeous looks!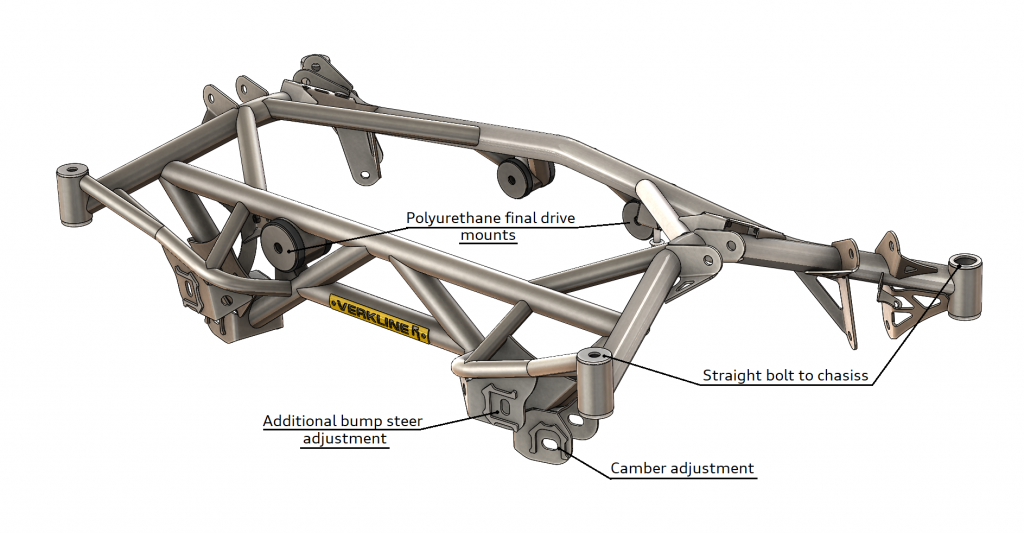 What is included:
pre-assembled rear subframe powder coated black (other colors possible +50euro/USD),

set of steel lockout wishbone positioning shims (24 pcs.) for positioning of Toe Links (allows bump steer adjustment)(-5/ -4/ -3/ -2/ -1/ 0/ +1/ +2/ +3/ +4/ +5 mm).

bolt and nut kit to mount Toe Links (Zinc plated, grade 10.9),

set of steel lockout wishbone positioning shims (8 pcs.) for positioning of Camber wishbones (-3.5/ 0/ +3.5 mm),

race polyurethane mounts for the rear differential,

a mounting bolt of exhaust system (Zinc plated, grade 10.9).

Printed install instructions
Used in:
– Toyota Supra A90
– Toyota Supra A91
– BMW Z4 G29
T45 is a very unique seamless carbon-based steel tube that has been used in many applications in different industries. It is stronger than Co-Mo 4130 tubing that is also used in motorsport. It is widely used in the aerospace sector in equipment such as pilot's seats and crew's seats due to the material's ability to withstand high G forces without snapping or splitting. This material is a Carbon Manganese based and conforms to the full Aerospace Specification laid down by British Standards.
T45 Properties:
Tensile: 700 – 900MPa,
0.2% Yield 620MPa minimum
Hardness Test: 201min – 262 max HB or 210min – 275max HV.
Replaces:
– 33316794865
– 33316795830
– 51206WAA04
– 51206WAA05
Notice : It's necessary to use an adjustable toe link in order to set the correct amount of toe as there is no adjustment on the subframe (replaced by bump steer adjustment).
Notice2: Sold for off-road, track, and racing applications only. Mounting the subframe may increase some noise, vibration, and harshness (NVH) in the car. We strongly advise mounting the subframe in a qualified and experienced workshop.